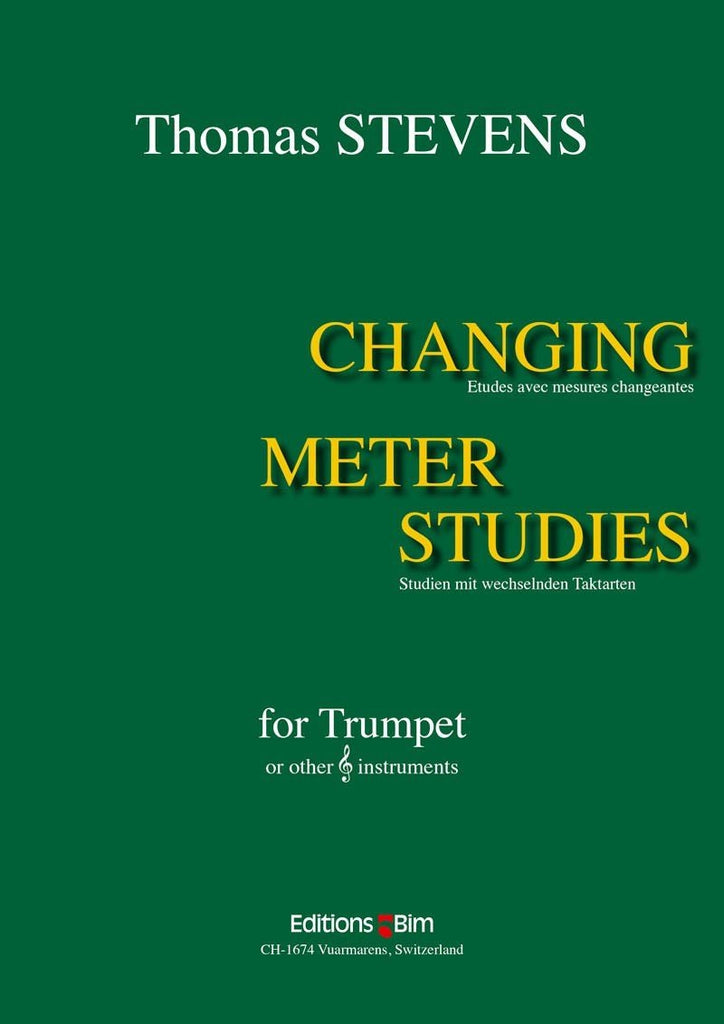 Changing Meter Studies by Thomas Stevens
$ 18.95
The Changing Meter Studies are intended to provide the student with practical exercises dealing with changing meters as they occur in much contemporary music.
The studies are not difficult from a technical point of view; the emphasis here being on the meter changes, which have been employed in such a way as to seem both "natural" and inevitable.
About the Author - Thomas Stevens (born 1938, Atascadero, California) was appointed to the Los Angeles Philharmonic Orchestra in 1965 by then music director, Zubin Mehta, who named him principal trumpet in 1972, a position he held through 1999.  He was concurrently involved as an educator in the U.S. and various international venues, including stints as a member of the regular faculties of the University of Southern California, CalArts, and the Music Academy of the West. The list of those who studied with him during those years includes prominent soloists, members of major symphony orchestras, and faculty members at leading universities and schools of music.
In addition to his work as an orchestral musician and educator, Thomas Stevens has performed and recorded as a soloist and chamber musician with major organizations throughout the world. He is perhaps best known internationally for his activities in the promotion, performance, and premiere recordings of new music for solo trumpet, the main body of those efforts having taken place from 1969 to 1985, and which resulted in many works that eventually became staples of the genre, including the "Sequenza X" of Luciano Berio, which was written specifically for him.
Thomas Stevens is a published composer, arranger, and orchestrator whose works have been performed in major concert venues and on recordings. His original educational materials, published by Editions Bim, are used in music schools throughout the world.
Thomas Stevens is a graduate of the University of Southern California (Thornton) School of Music, where he was named outstanding alumnus of the year in 1996.